Expeditions
Hornstrandir Expedition
Sea Kayak Iceland offers a multi-day expedition that is customized to your need and desire for adventure
About Hornstrandir Nature Reserve

Hornstrandir is a nature reserve on the northern tip of the Westfjords. Tundra, expansive fields, cliffs and ice cover about 220 sq m (580 square kilometers) of the whole area. Since the 1950s, Hornstrandir has been completely uninhabited with only a few farm buildings and summer cottages remaining to this day.
Human life and nature in the Hornstrandir Nature Reserve coexisted for ages. Agriculture here is pretty much impossible, so the main means of livelihood were fishing, bird hunting, and the occasional ship crafting. 
No roads lead to the nature reserve, so the only way to reach this remote gem is by boat or Kayak or on foot from the South and only during the summer – in the winter, the Nature Reserve is completely abandoned.
The Trip

Paddling into the most remote area of Iceland you will need paddling experience and to be lucky with the weather. It can be unpredictable and harsh even in the summertime. So planning and knowledge of the area are crucial. Sea Kayak Iceland offers a multi-day expedition that is customized to your need and desire for adventure.
On our expedition we will visit places like Aðalvík, Fljótavík, Hlöðuvík, Hornvík. Moving from camp to camp we discover the wildlife which flocks to these regions during the summertime. Sea birds come from far and wide to breed along these shores and cliffs. The members of the expedition will have an opportunity to learn and challenge themselves in this unique environment.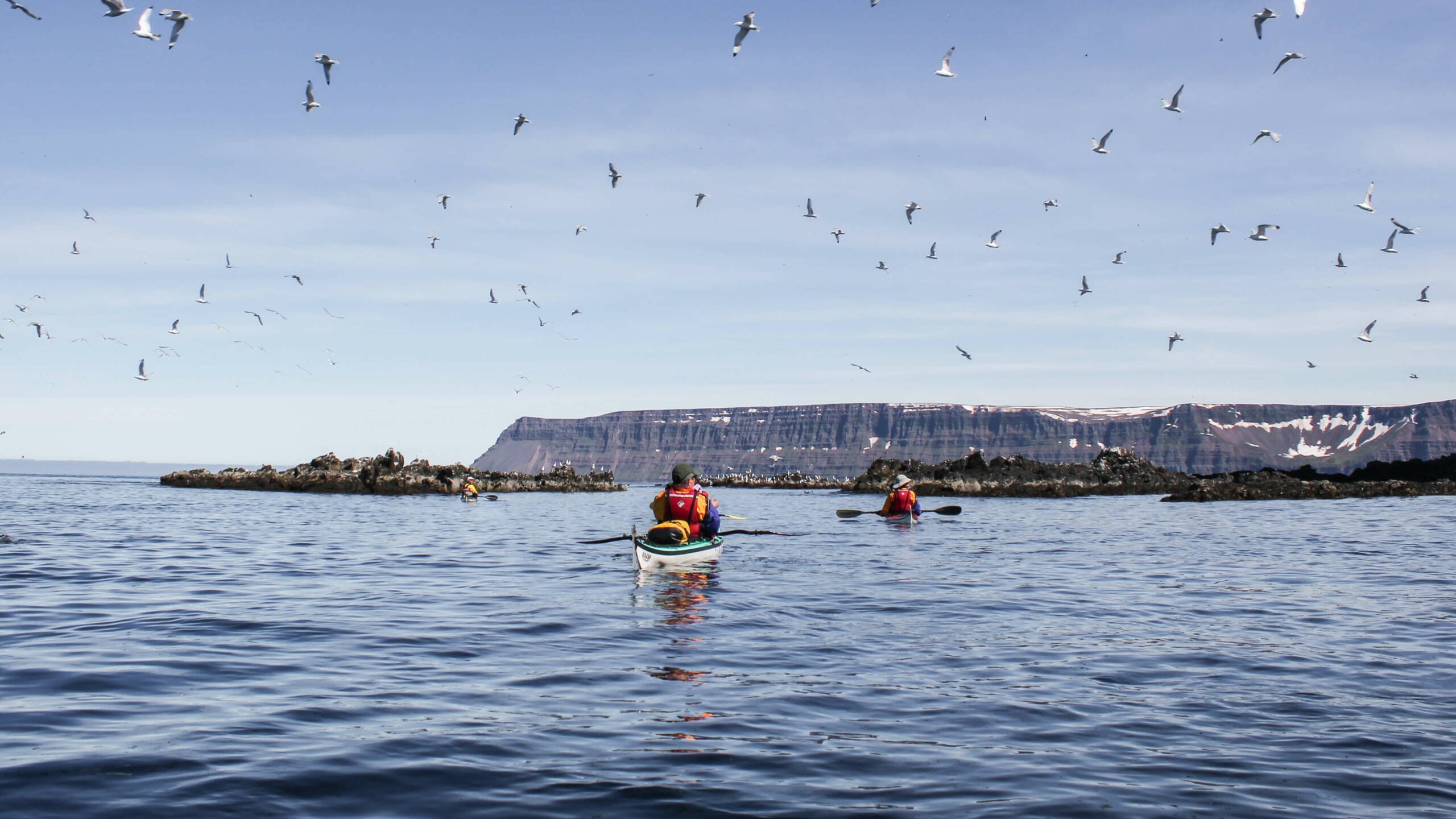 WEATHER IN Hornstrandir

Hornstrandir Nature Reserve is within arm's reach of the Arctic Circle, Hornvik bay being only 5 miles away from it. The climate here can be unpredictable and harsh so the peninsula is only available to visit during the summer. Naturally the weather follows making it an exciting and often challenging experience. Kayaking season here is shorter than elsewhere in Iceland. The best time to visit Hornstrandir is from late-June until the end of August.
During your time there, you should be prepared for hail, snowstorms, thick fog, rain, and sunshine all in one day. Temperatures can vary from 0°C (32°F) to (15°C) (59°F).
BIRDS & WILDLIFE

We will visit two of the biggest bird watching cliffs in Europe which are located in Hornstrandir. Hælavíkurbjarg, Hornbjarg, and Riturinn Cliffs are home to more than 30 species of birds, such as guillemots, fulmars, kittiwakes, razorbills, and puffins.
Field mice and arctic foxes are two permanent residents of the peninsula. Field mice are very charming and naturally harder to spot. Arctic foxes in Hornstrandir are friendlier than elsewhere in Iceland and might even get up close and try to steal your freshly caught fish.